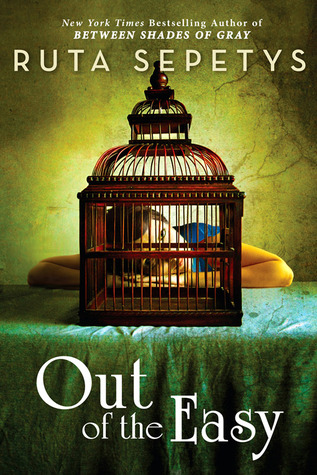 Genre(s) Young Adult, Historical
Publisher: Philomen Books
Summary: "It's 1950, and as the French Quarter of New Orleans simmers with secrets, seventeen-year-old Josie Moraine is silently stirring a pot of her own. Known among locals as the daughter of a brothel prostitute, Josie wants more out of life than the Big Easy has to offer.

She devises a plan get out, but a mysterious death in the Quarter leaves Josie tangled in an investigation that will challenge her allegiance to her mother, her conscience, and Willie Woodley, the brusque madam on Conti Street. Josie is caught between the dream of an elite college and a clandestine underworld. New Orleans lures her in her quest for truth, dangling temptation at every turn, and escalating to the ultimate test.

With characters as captivating as those in her internationally bestselling novel Between Shades of Gray, Ruta Sepetys skillfully creates a rich story of secrets, lies, and the haunting reminder that decisions can shape our destiny."
Review:
This is the second book I have read by Ruta Sepetys and I must say she is quickly becoming a favorite author to me! This is a well researched, beautifully written 1950's historical. You really get the feel of being in New Orleans in 1950.

Josie (Jo) is a very well written character. She is strong, intelligent and very realistic. She is an extremely believable character with a good blend of strengths and flaws. She is a teenage girl who lives on her own, and wants desperately to get out of New Orleans and go to college. With a prostitute for a mother and no known father her goal seems to be a pipe dream. A sick friend, and a murder mystery just adds to her troubles.

Her mother is an evil piece of work. I loathe her. One of the most self-centered ladies ever! What she does to Jo in this book buts the word awful to shame! Then there is Willie who runs the whorehouse where Jo cleans and her mother sells herself. It took the longest time to make up my mind about her. I like her no nonsense attitude but I always felt that she was hiding something. Then there is Cokie. I loved Cokie. He is the driver for Willie and acts like a uncle and friends to Jo. I think I could have a great time hanging out with him, sweet and fun as he is!

There is a bit a love triangle between her, Patrick and Jesse. Jesse is the ladies man mechanic of the Quarter with a bit of a 'bad boy' edge. Patrick is the son of the owner of the bookstore where she lives and works. The smart intellect, caring for his ill father. Now while I say love triangle it is very mild through a lot of it. It is not drawn out like so many other books these days. Very simple and plausible.

The way everything is written out is perfect. From the clothing, the whorehouse, the Quarter in general.... Every scene was very visible in my mind. You really feel like you are right there with Josie at all times. Seeing, tasting and smelling everything she does. It has a slightly artistic edge and it very evident that Ruta took her time to research New Orleans and the time period. This book comes with my full recommendation for all teenagers and adults.