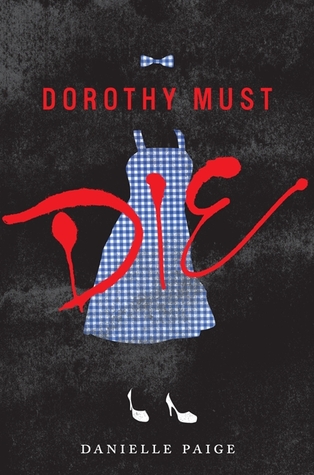 Genre(s): Retellings, Young Adult, Fantasy
Summary: "I didn't ask for any of this. I didn't ask to be some kind of hero.

But when your whole life gets swept up by a tornado—taking you with it—you have no choice but to go along, you know?

Sure, I've read the books. I've seen the movies. I know the song about the rainbow and the happy little blue birds. But I never expected Oz to look like this. To be a place where Good Witches can't be trusted, Wicked Witches may just be the good guys, and winged monkeys can be executed for acts of rebellion. There's still the yellow brick road, though—but even that's crumbling.

What happened? Dorothy.

They say she found a way to come back to Oz. They say she seized power and the power went to her head. And now no one is safe.

My name is Amy Gumm—and I'm the other girl from Kansas.

I've been recruited by the Revolutionary Order of the Wicked.

I've been trained to fight.

And I have a mission
Review:
I want to start off by saying that when I started this book I what I would think if it. My twisted sense of curiosity is what got the best of me on this one and I am glad it did. Lots of twisted and backwards adventure to be found here!
Amy Gunn is your average girl who has been dealt a bad hadn at life. She has no friends (thanks to nasty Ms. Madison), her father left when she was young and her mom is is a druggie. She wants nothing more than to get away from her crappy trailer life. Well she gets her wish; just no how she expected it.
Welcome to Oz. But not how we know it. Yes the happy movies and the book is based on what
had
taken place but the story didn't end there...Dorothy came back and apparently became power and magic hungry. Glinda is a horrible slave driven, the munchkins are back to living in fear worse than with the witches. The beloved Scarecrow, Tin Man and Lion are mutated and twisted into something atrocious! And many other twists await!
Let me give warning: DO NOT get attached to characters. There is a fair share of death in this book. And the first one I read has me very distrustful of bubbles right now and was gross! so unpleasant death at that! You have been warned...
Then we get the fun job of attempting to figure out who to trust. Everyone tells Amy to trust no one. So that sends a firm message that has me wondering through the entire book. Many characters seem to have ulterior motives and secrets. So Amy has to train and learn to fight, control magic all while wondering what is going on and why.
Danielle Paige has done a great job with character creation. Nox, Glamora, and other fantastic new characters are in this book. Amy I felt could have been a bit better. I do like her with her balance of flaws and abilities but her frame of mind and willingness so early on to kill disturbed me.
The ending bit a bit rushed with lots of important facts but it is just sort of hurled at the reader. Which leads to my last small annoyance: the back cover is misleading....By the end of the book she is just barely starting on the actually missions set. When I got this book I was not expecting a long series. Now I wonder how long this can be. I have no problem with a series but I prefer my summaries to cover the book not the whole series arc. There is a lot if filler in this book. While enjoyable, it was not necessary and I feel is deliberately drawing it out (much like drawing a movie into 2 parts-I don't like that either).
Less those few flaws, I really enjoyed this book. A good start to a new adventure. This is for older teens-adults with some graphic scenes and behaviors. The recreated world is fun to re-explore after many years. I will assuredly be continuing the series!