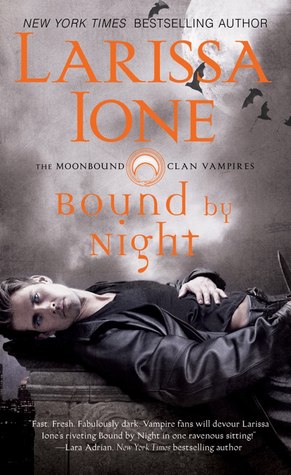 MoonBound Clan Vampires: Bound by Night (1)
Genre(s): Paranormal, Romance, Adult
Summary: "A WOMAN OUT FOR BLOOD

Nicole Martin was only eight years old when the vampire slaves rose up in rebellion and killed her family. Now she devotes her life to finding a vaccine against vampirism, hoping to wipe out her memories—along with every bloodsucker on the planet. But there's one thing she cannot destroy: her searing, undeniable attraction for the one man she should hate and fear the most . . .

A VAMPIRE OUT FOR REVENGE

A member of the renegade vampire MoonBound Clan, Riker is haunted by demons of his own. When he recognizes Nicole and remembers how her family enslaved his loved ones, his heart burns for vengeance. But when he kidnaps Nicole and holds her in a secret lair, his mortal enemy becomes his soul obsession, his greatest temptation, and, perhaps, his only salvation—a hot-blooded lover who could heal him with her touch . . . or bury him forever."
Review: Welcome to Larissa Ione's latest vampire series! An interesting story of slavery, loyalty, revenge and a hot 'n sexy romance.

Nicole is a human woman and New-found CEO of Daedalus Corp. She inherited the company from her parents who were massacred in a vampire rebellion attack when she was a young girl. Her illegitimate half-brother, Chuck, has been ruining it in her place until she was ready to take the reins. But what she thinks she is getting may be more than she expected.
Daedalus Corp is a scientific companies working on vampires. TO create vaccines, to understand them, breed them and worse... Nicole only knows some of what the company is. But when a few vampires, Ryker and Myne, kidnap her and demand she release a certain vampire, her rose colored glasses are finally removed...
Now I am not sure if this book is a futuristic book or just an alternate timeline but regardless, in this reality most vampires are slaves to humans. Often collared, De-fanged and used however humans see fit. Yet there are still free vampires out there who are fighting back.
Nicole grew up thinking as vampires are the enemy and Ryker thought the same of humans. Both share a past with Terese who was Nicole's nanny and Ryker's mate. Nicole is about the learn how much more there was to her death, her families company and vampires in general. And Ryker needs to learn that not all humans are that bad.
While I liked all the characters, Myne is probably one I wish we had gotten to know better and hope to learn more in future books. Bastien has me very curious about with his ability and we even had a mad scientist in this book with an affinity for kool-aid!
Nicole sort of annoyed me at times. While I like how she presents herself and is strong in many ways, she is also lived a naive life. I kept wondering why she never question the attack, or how she thought vampire experimentation is okay. She'll confront a wrong if shoved in her face but otherwise seemed to have her own interests at the forefront of life. She never questioned the order of vampire exterminations that her company obeyed, in which her signature was on the order. I mean, if you didn't sign it, WHO DID? I would have thought she would have realized things were wrong and need her attention. But it took a kidnapping to get her to wake up. Sad
Ryker I loved. Ryker with a good heart but a few too many chips on his shoulder. He loves sticking his foot in his mouth on areas that quickly come to bite him in the butt all too often.
I was not a big fan of the Indian backround for the creation of vampires. and The end did nothing to fix that. While I am curious enough to continue the ending alone almost cost this 1/2 a star. It just doesn't seem necessary and it's overkill. I will leave it at that.
So overall enjoyable. Some very steamy, almost rough sex scenes so this is very much adults only. Bit of intrigue and science blended in. The characters are well done and each unique. The slavery aspect is new but I wish I knew a bit more of what is going on there.
**I received a copy of this book in exchange for a fair and honest review.**