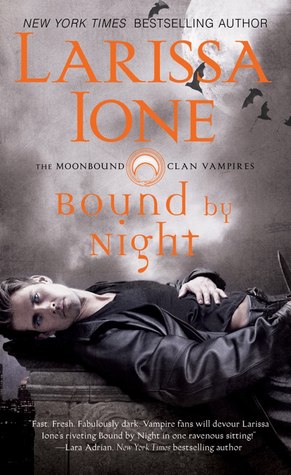 MoonBound Clan Vampires:  Bound by Night (1)
Genre(s): Paranormal, Romance, Adult
Summary:  "A WOMAN OUT FOR BLOOD

Nicole Martin was only eight years old when the vampire slaves rose up in rebellion and killed her family. Now she devotes her life to finding a vaccine against vampirism, hoping to wipe out her memories—along with every bloodsucker on the planet. But there's one thing she cannot destroy: her searing, undeniable attraction for the one man she should hate and fear the most . . .

A VAMPIRE OUT FOR REVENGE

A member of the renegade vampire MoonBound Clan, Riker is haunted by demons of his own. When he recognizes Nicole and remembers how her family enslaved his loved ones, his heart burns for vengeance. But when he kidnaps Nicole and holds her in a secret lair, his mortal enemy becomes his soul obsession, his greatest temptation, and, perhaps, his only salvation—a hot-blooded lover who could heal him with her touch . . . or bury him forever."
Review:  Welcome to Larissa Ione's latest vampire series! An interesting story of slavery, loyalty, revenge and a hot 'n sexy romance.

Nicole is a human woman and New-found CEO of Daedalus Corp. She inherited the company from her parents who were massacred in a vampire rebellion attack when she was a young girl. Her illegitimate half-brother, Chuck, has been ruining it in her place until she was ready to take the reins. But what she thinks she is getting may be more than she expected.