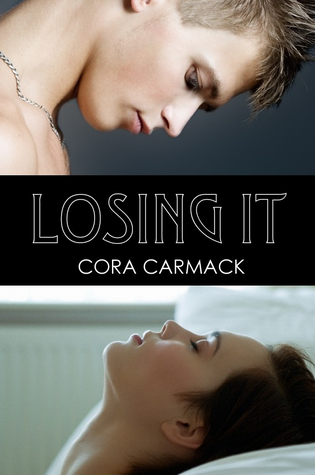 Genre: New Adult, Romance, Chick Lit
Publisher: William Morrow & Ebury
Summary:
"Sick of being the only virgin among her friends, Bliss Edwards decides the best way to deal with the problem is to lose it as quickly and simply as possible - a one-night stand. But her plan turns out to be anything but simple when she freaks out and leaves a gorgeous guy alone and naked in her bed with an excuse that no one with half-a-brain would ever believe. And as if that weren't embarrassing enough, when she arrives for her first class of her last college semester, she recognizes her new theatre professor. She'd left him naked in her bed about 8 hours earlier."
Review:
I honestly did not expect to enjoy this nearly as much as I did. The whole "New Adult" romance concept just did not appeal to me. Yet I kept seeing this particular book popping up amongst others in my circles. Once I read the summary, idle curiosity took over. All I can really say is I am very glad to have given this book a chance!

The concept alone made me smile. I mean, a woman hooks up with a guy just to find out he's her teacher? A bit cliche but also sounded a bit comical based on what I had heard. Yes there is comedy, but there is also a lot more depth than I expected. Yet by no means was this a heavy read. It was quite lighthearted. Her guy ditching excuse has me nearly doubled over! Yet here sweet side and inner personality had me liking her immediately. The realistic setting creates the perfect blend for the theme.

I loved being inside Bliss's head she is so amusing yet endearing and reminds me of one of my closest friends in a lot of ways. She also has some amazing friends and has apparently good taste in guys. The problem is what is a girl to do when he is her TEACHER! College or not, that can equal trouble, yet Garrick and Bliss can't seem to keep away from each other. Throw in your friends and a drama production and hilarity can (and will) ensue! Not to mention how HOT Garrick is! I do not swoon over guys in books easily. His character is swoon worthy!

Cora Carmack writes with a great sense of humor. While the story is mostly down to Earth, the style and flare with which it is told is fantastically amusing. I was either grinning or laughing my way through most of this book! Please note, the humor is not a full comedy. It is subtle, and sweet and wonderful for the most part. I highly recommend it for older teens-adults. It is a quick read, hard to put down and will surely lighten your heart! Cora Carmack is an author to continue reading for sure! Ladies, do not miss this read!

Some favorite quotes:

"It wasn't until I'd walked halfway across the parking lot that I realized: 1. I wasn't wearing shoes.
A. Or a shirt.
2. I didn't bring my keys
A. Or anything really.
3. I'd just left a complete stranger in my apartment.
A. Naked.

Whoever said one-night stands were supposed to be simple with no strings attached had clearly never met the disaster that was me."

"Oh, I burned it with my straightener."
"You burned your leg with your straightener? How long is your leg hair?"

"He was flabbergasted. That was the best word. His flabber had been thoroughly gasted."