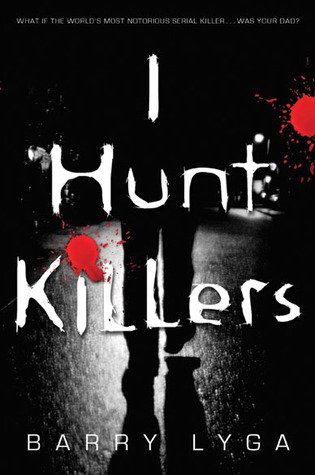 Jasper Dent: I Hunt Killers (1)


by Barry Lyga


Genre: Young Adult, Horror, Thriller, Mystery
Publisher: Little, Brown Books





Summary: "What if the world's worst serial killer...was your dad?

Jasper "Jazz" Dent is a likable teenager. A charmer, one might say.

But he's also the son of the world's most infamous serial killer, and for Dear Old Dad, Take Your Son to Work Day was year-round. Jazz has witnessed crime scenes the way cops wish they could—from the criminal's point of view.

And now bodies are piling up in Lobo's Nod.

In an effort to clear his name, Jazz joins the police in a hunt for a new serial killer. But Jazz has a secret—could he be more like his father than anyone knows?"
Review:
Guilty confession: When I first started this, I was not expecting much. The summary left me skeptical to a good plot but I was determined to try because I had already heard lots of great things about the sequel to this one. What I can say now is that I am so glad I did. This book is so much more than what it seems on the surface!

As I began, I was torn or the style in which the story was presented. At first it seemed short and abrupt. Normally this would annoy me but after the first couple chapters I was quickly captivated by the thought process of young Jasper (more commonly known as Jazz) Dent. Once you get to understand him, the style it is written in makes so much more sense and fits to his personality and lifestyle.

This poor guy has lived a life of hell! A serial killer for a father who's victims were in the triple digits. After his father is caught is stuck with his deranged grandmother. What a crazy coot she is! He is so worried his mentality is like his fathers. He has seen WAY too much horror for his age. How can it not twist a person?


When a new serial killer makes an appearance in his town, Jazz is determined to help solve it. To absolve himself, to clear his name or prove just what kind of person he really is no one knows. Jazz is smart and methodical but no matter how much he tries, he can never escape his father's shadow. Especially when the killers methods strike too close to home for comfort!

I cannot express enough how much I enjoyed this. A great psychological thriller and mystery. The mental battles Jazz goes through are so well described. You really feel you are right there in his brain, working through everything with him. Jazz is terrified of his own capabilities to kill. Questioning if he has killed, figuring how easy it would be to kill... Then trying to solve the crimes and save his friends!

This book goes through a wide range of mental processes one might experience under such a life. Almost makes you wonder about the author... (just kidding!). There is action, violence and death in this book. While it is Young Adult in nature, it is older adult. Do not let the writing style and the lighter chapters at the beginning fool you. This goes dark! It is filled with twists and turns and unexpected moments. I cannot wait to continue the series!
I actually liked this book so much I want to give a copy to one lucky winner. Available world wide so long as The Book Depository ships to you.
Or you can have an eBook copy from Amazon. Your choice.
Winner will be have 48 hours once notified to claim their prize.
Entries will be verified before contacted. False entries will equal disqualification from this giveaway and all future giveaways.
a Rafflecopter giveaway