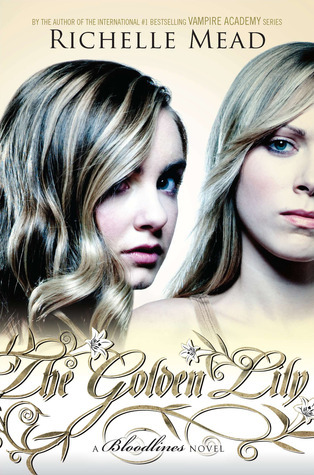 The Golden Lily (2)
Genre(s): Paranormal, Young Adult
Summary:
"
Sydney Sage is an Alchemist, one of a group of humans who dabble in magic and serve to bridge the worlds of humans and vampires. They protect vampire secrets—and human lives.

Sydney would love to go to college, but instead, she's been sent into hiding at a posh boarding school in Palm Springs, California–tasked with protecting Moroi princess Jill Dragomir from assassins who want to throw the Moroi court into civil war. Formerly in disgrace, Sydney is now praised for her loyalty and obedience, and held up as the model of an exemplary Alchemist.

But the closer she grows to Jill, Eddie, and especially Adrian, the more she finds herself questioning her age–old Alchemist beliefs, her idea of family, and the sense of what it means to truly belong. Her world becomes even more complicated when magical experiments show Sydney may hold the key to prevent becoming Strigoi—the fiercest vampires, the ones who don't die. But it's her fear of being just that—special, magical, powerful—that scares her more than anything. Equally daunting is her new romance with Brayden, a cute, brainy guy who seems to be her match in every way. Yet, as perfect as he seems, Sydney finds herself being drawn to someone else—someone forbidden to her.

When a shocking secret threatens to tear the vampire world apart, Sydney's loyalties are suddenly tested more than ever before. She wonders how she's supposed to strike a balance between the principles and dogmas she's been taught, and what her instincts are now telling her.

Should she trust the Alchemists—or her heart?"- taken from goodreads
Review:
This volume set me as a solid fan of this series. While I am still smitten with it's predecessor (the Vampire Academy Series) and will likely always think of it as my favorite Mead series that I have read so far, the Bloodlines series has done an impressive job stepping up to the plate. For more on what I though of the first book or a comparison of the two series
click here.
This picks up shortly after where Bloodlines left off. Sydney has gone from fallen to exemplary in the eyes of the alchemists but little do they know that she is closer to being 'comfortable' with vampires than they would approve of. I would even go so far as to say that she starts to consider some of them friends. Her growth as a person is impressive. Especially with the constant curve balls being thrown her way. And this book contains one major twist. In addition to the Moroi, Strigoi, dhampires, and alchemists we now get yet ANOTHER group! One who dislikes all the above groups! And those around Sydney may not be all they seem to be....
Adrian is once again the best character for this series! I don't think he will lose that position. We get a bit more in depth with him here. While I liked him before, some moments when he bares his soul really tug on the emotions. He really needs someone to have his back and the odd thing is Sydney is the best he seems to have and she should despise him for what he is.
Forbidden relationships seems to be s strong theme for this book. All characters are struggling here is some way or another it seems. Plus a couple potentially awkward relationships.
The writing is engaging and easy to follow. It left me feeling like I could be a part of everything going on. There were moments of concern, perplexity, sorrow, empathy, etc that I felt for the characters or situations. Richelle Mead has a way of making the characters are real to the reader. I have no doubt that 10, 20 years from now I will still remember them fondly, even long after their stories are done. Luckily they aren't over yet!