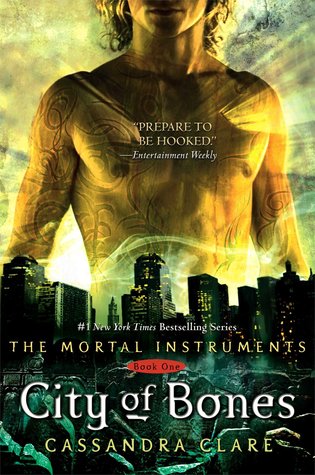 The Mortal Instruments: City of Bones (1)
Genre(s) Paranormal, Young Adult, fantasy
Official Summary:
When Clary Fray heads out to the Pandemonium Club in New York City, she hardly expects to witness a murder. Much less a murder committed by three teenagers covered with odd markings. This is Clary's first meeting with the Shadowhunters, warriors dedicated to ridding the earth of demons--and keeping the odd werewolves and vampires in line. It's also her first meeting with gorgeous, golden-haired Jace. Within twenty-four hours Clary is pulled into Jace's world with a vengeance, when her mother disappears and Clary herself is attacked by a demon. But why would demons be interested in an ordinary mundane like Clary? And how did she suddenly get the Sight? The Shadowhunters would like to know....
***I actually wrote this review nearly 2 years ago but somehow missed adding it to my blog apparently. Here it is!***
Review:
Very nicely written book. Lots of adventure, action, romance and more. Cassandra Clare did a great job with all the fantastic races in the urban fantasy world she has created.

This story is focused on a teen heroine, Clarissa (Clary for short) Fray. It starts off with her and a friend going into a club and she sees a small group kill what the called a 'demon.' The problem? No one else can see these people except her. When later talking to one of them, trying to figure out who he is she gets a frantic phone call from her mother saying to not come home. So what does she do? Goes directly home. All I have to say to that is one word: Teenagers.
When she gets home her mother is gone but a strange creature is there and tries to kill her. By a stroke of luck she gets it before it gets her. From this moment on, her world finished it's 180 degree flip. She learns her mother was what is called a Shadowhunter (which is what the 3 she met at the club are) and that a man named Valentine took her hostage in his mission to find the Mortal Cup. As Clary learns of the other, true reality she is now forced to see, she questions her relationships, friends/family, loyalty and her own self.
This novel is filled with fights, romance, and self-discovery. I look forward to the second book in the series.