Between the Devil and the Deep Blue Sea
by April Genevieve Tucholke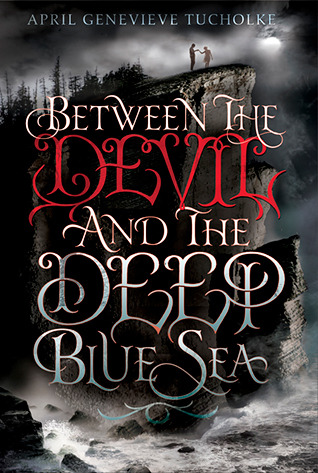 Genre(s): Young Adult, Paranormal, Romance
Summary
"You stop fearing the devil when you're holding his hand…
Nothing much exciting rolls through Violet White's sleepy, seaside town… until River West comes along. River rents the guest house behind Violet's crumbling estate, and as eerie, grim things start to happen, Violet begins to wonder about the boy living in her backyard.
Is River just a crooked-smiling liar with pretty eyes and a mysterious past? Or could he be something more?
Violet's grandmother always warned her about the Devil, but she never said he could be a dark-haired boy who takes naps in the sun, who likes coffee, who kisses you in a cemetery... who makes you want to kiss back.
Violet's already so knee-deep in love, she can't see straight. And that's just how River likes it.
Blending faded decadence and the thrilling dread of gothic horror, April Genevieve Tucholke weaves a dreamy, twisting contemporary romance, as gorgeously told as it is terrifying—a debut to watch.
-Taken from goodreads
Review: Not what I was expecting. And sadly, not as good as I was hoping. Three stars is even stretching it but the writing helped save this book from some of the most frustrating characters.

Let's start with Violet. Our "heroine" and narrator for the story.
She has an obsession with her dead grandmother through the entire book. Wears her clothes, sleeps in her room and is continuously going through her grandmother's belongings looking for the elusive "something" for the past 5 years! Enough is enough and you need to move on with your life. Her best and only friend is a flirt with her brother and shows no depth as a character nor do I get their friendship. I saw nothing there. It was hollow.
The other main character is River. A mysterious teen who shows up to rent the guest house. No questions asked. He is a pathological liar and a major manipulator of everything around him. By the title and summary I expected this for other reasons but those reasons just kept dragging along without answer.
The other characters in the book also make little sense and are very one dimensional. No one seems to have depth or more than one personality aspect!
Then there is the insta-love. I have never been a big fan of this and this is worse than normal. Not only is Violet instantly cuddling and napping with this guy (even on the same day he takes her friend into a cave for a supposed make-out session) but even after she learns the truth she just keeps letting the guy use her while falsely saying no...Gah! I wanted to smack them both. This actually had me mad!
Now for the positive. Like I said at the beginning, I enjoyed the style in which this was written. An odd mix of southern and gothic (with a twinge of old west with the mine) feel to the story, depending what the focus was on. I was able to visualize the house, town, paintings, very clearly. It gives just enough to give is the scene, yet leaves plenty of room for our imagination to fill in the backround. For this reason I would be interested in possibly looking into something else by this author. Although if it is romance-centric I will be more skeptical.
This is heavy of the romance with a bit of a paranormal and horror addition that I wish had been brought more to the forefront. I felt a bit mislead by the summary.
Overall, an okay read. Possibly worth the read but not worth a lot of money. I can think of better books for my bucks. So a casual library recommendation when your to-read list gets low.