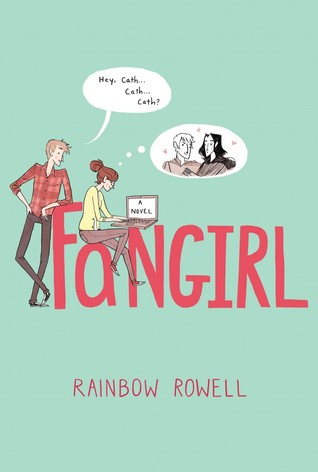 Genre(s): Chick-lit/Contempory, Young Adult/New Adult
Publisher: St Martin's Press
Official Summary: "A coming-of-age tale of fan fiction, family and first love.

Cath is a Simon Snow fan.

Okay, the whole world is a Simon Snow fan...

But for Cath, being a fan is her life—and she's really good at it. She and her twin sister, Wren, ensconced themselves in the Simon Snow series when they were just kids; it's what got them through their mother leaving.

Reading. Rereading. Hanging out in Simon Snow forums, writing Simon Snow fan fiction, dressing up like the characters for every movie premiere.

Cath's sister has mostly grown away from fandom, but Cath can't let go. She doesn't want to.

Now that they're going to college, Wren has told Cath she doesn't want to be roommates. Cath is on her own, completely outside of her comfort zone. She's got a surly roommate with a charming, always-around boyfriend, a fiction-writing professor who thinks fan fiction is the end of the civilized world, a handsome classmate who only wants to talk about words... And she can't stop worrying about her dad, who's loving and fragile and has never really been alone.

For Cath, the question is: Can she do this?

Can she make it without Wren holding her hand? Is she ready to start living her own life? Writing her own stories?

And does she even want to move on if it means leaving Simon Snow behind?
Review:
Well this is much more a coming-of-age novel than about fangirling. While there are some elements to the main character with being a bit obsessive over Simon Snow (basically Harry Potter), it is more her learning how to adapt to life. While I was expecting more fandom aspects going into this story I got some other aspects that made up for it.

So Cath and Wren are identical twins, setting off for college. For the past several years, they have been stuck together like glue. They lived a quiet life, with little socialism with classmates, neighbors,etc. What they did though was spend all their free time writing Simon Snow fanfiction together. Yet apparently Wren is ready for a change of pace. She wants a new experience, a life that is not co-dependant on her sister.

Cath, on the other hand isn't ready to even leave home. So she struggles to keep life the same but now she is alone. Dad is back home and her sister has chosen to not even room with her. So with a new roommate and a fanfiction story to carry on Cath trudges on.

Now let me explain about Simon Snow. Simon Snow is basically Harry Potter. At first I thought it was legal rights of mentioning the series but then Harry Potter itself is mentioned so then i just wondered WHY? Either keep it Harry Potter or make it seem as though Harry Potter fandom doesn't exist. The dual relationship just added some frustration. Anyways Cath likes working on her Simon/Baz fanfiction story (basically Harry/Draco). Anyone who has read or written fanfic will get a lot of what she talks about with expections, comments, etc with the online community.

Then we get Cath. Cath is the most socially inept character I think I have ever read about. Now I am not a social person. In fact I have social anxiety where dealing with people actually causes me to stress out. I know a couple others worse than me. So in some ways I could relate to Cath. I can understand the not wanting to go leave the dorm room, and avoiding the party scenes, etc. What I don't get is the near refusal to even try to make a friend. Reagan (her roommate) has to practically force her to socialize in the same living room! And trying to talk about anything besides Simon Snow--forget it!

Most fans I know can cross communicate other interests. Be it a Harry Potter fan, Trekkie, Otaku, Whovians, etc. They can convserse on matters outside of their specialty. Cath only has the one interest, and if you aren't interested, it is almost like you are not worthy. For example for Cath to give Levi (they guy who likes her) the time of day he simple let her read her fanfiction to him.

Through it all, I could still relate to a certain degree. Even though it's more an extreme. Having lived a very sheltered childhood, when I was first on my own, I had no concept how to deal with people and simple tasks like going to the store could nearly drive me insane just thinking about it. So watching Cath adapt to things like the Dining Hall, making friends, going out, etc was a reflection of my own maturing. A lot that makes it easy to see is how Cath reflects on things in how she sees herself. So been there with her!

Reagan and Levi try so hard to break Cath out of her shell. They obviously see some kind of potential. And I must say, I loved these two. What an amazing friendship they offer! I have decided everyone needs a Reagan in their life to call them on their crap. Even the other character relation dynamics between any character is just wonderfully done. It really brings the book to life for me.'

I wish the book brought out other aspects of being a fangirl to something. I felt it is a bit one dimensional to the writing fanfiction (we really don't even here about her reading fanfiction). I wish it better incorporated the feel of being a fangirl.

One thing that became overkill were the Simon Snow intro chapters. Every chapter we get a a peak into the fake Simon Snow books (or Cath's fanfiction). A first it worked so we get the Harry Potter relation, but after a few rounds in just detracted from the story and became annoying.

Ultimately, I loved seeing Cath branch out and feel more comfortable in other settings. The learning to balance her inner fangirl with real life. From the challenges her roommates, teachers and classmates give her, to the family drama. That is another thing that got to me in a good way. The family situations. I could very much relate to those. For parts I felt I could have been Cath. That and the relationships in the book are why I enjoyed it as much as I did.
Some favorite Quotes from the book:
"In new situations, all the trickiest rules are the ones nobody bothers to explain to you. (And the ones you can't Google.)"
"Underneath this veneer of slightly crazy and mildly socially retarded, I'm a complete disaster."
"I don't trust anybody. Not anybody. And the more that I care about someone, the more sure I am they're going to get tired of me and take off."
"
"I feel sorry for you, and I'm going to be your friend."
"I don't want to be your friend," Cath said as sternly as she could. "I like that we're not friends."
"Me, too. I'm sorry you ruined it by being so pathetic." "