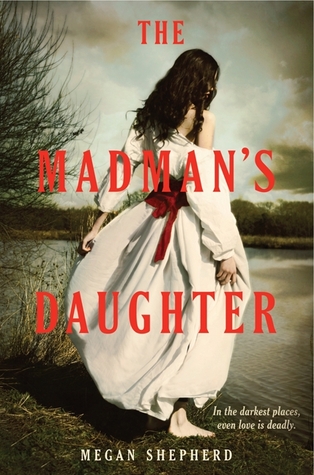 The Madman's Daughter (1)
Genre(s): Historical-Fiction, Retellings, Young Adult, Horror
Publisher: Balzer and Bray



Summary: "Sixteen-year-old Juliet Moreau has built a life for herself in London—working as a maid, attending church on Sundays, and trying not to think about the scandal that ruined her life. After all, no one ever proved the rumors about her father's gruesome experiments. But when she learns he is alive and continuing his work on a remote tropical island, she is determined to find out if the accusations are true.

Accompanied by her father's handsome young assistant, Montgomery, and an enigmatic castaway, Edward—both of whom she is deeply drawn to—Juliet travels to the island, only to discover the depths of her father's madness: He has experimented on animals so that they resemble, speak, and behave as humans. And worse, one of the creatures has turned violent and is killing the island's inhabitants. Torn between horror and scientific curiosity, Juliet knows she must end her father's dangerous experiments and escape her jungle prison before it's too late. Yet as the island falls into chaos, she discovers the extent of her father's genius—and madness—in her own blood.

Inspired by H. G. Wells's classic The Island of Dr. Moreau, The Madman's Daughter is a dark and breathless Gothic thriller about the secrets we'll do anything to know and the truths we'll go to any lengths to protect."
Review:
What a great twist on a classic story. The Madman's Daughter is a spinoff story for The Island of Dr. Moreau by HG Wells. While you can read this book without reading the other, I encourage the reading of both. Especially to see where the inspiration for this book comes from. Some parts follow very closely the story of Wells' book and others quite different. In particular is Megan Shepherd's original character, Juliet.

Juliet is the daughter the the infamous Dr. Moreau. She is 16 and orphaned on her own. Her father fled the country after information about his scientific experiments got out and her mother died several years later. From wealth to poverty and ridicule Juliet has not had the easiest life. Yet she is smart and educated. Quite knowledgeable in science, especially for a woman of that time. I must say I liked her inner strength and while she is may be unsure of her own "unlady-like" interests I simply find her ahead of her time.


She runs into her childhood friend (and her father's assistant) Montgomery who informs her that her father is alive. Against his better judgement she insists on being taken to him. On their journey to the island they come across a man named Edward. And the three of them, along this Balthazar (Montgomery's assistant) go to the island.

There things take a turn for the twisted. And anyone who has read The Island of Dr. Moreau know what I speak of. For those that have not, read it or this for more information. What I will say is that Dr Moreau is a very dedicated, and obsessed scientist. His experiments come above all else in his life. And that can come with unexpected prices for everyone.

Dark, often psychologically twisted with some romance and madness thrown in this adventure. We get some borderline steamy scenes between Juliet and Edward and Juliet and Montgomery. Both men very different and both seem to have their own secrets. I could never trust either own of them and yet was drawn to learning more about them. Although my favorite character was Balthazar. Sweet Balthazar who is quite caring, protective and puts others above himself. While he is a minor character in the story he is a great one. And dear, innocent Alice, whom I wish I had gotten to know more in this book. Even Dr Moreau had qualities that draw you in. So I must say Megan Shepherd did an amazing job with each character.

This story is very engaging, and well-written. Also thought provoking at times. Is Dr Moreau mad? The mystery behind each character keeps you guessing their intentions and what secrets they may possess. Who can Juliet trust? Each time you get a bit further, a new question to ask yourself arises. It makes for a very thrilling read.

Overall, I highly recommend this book for older teens and adults. There is a bit of something for all readers although the love triangle romance does have the book geared more toward females. The is some action, adventure, creepy science and more to be discovered!
Note: I just started reading Her Dark Curiousity today and am already over halfway done and will likely be finished before I go to sleep tonight! Expect a giveaway with the review for Her Dark Curiosity!!!