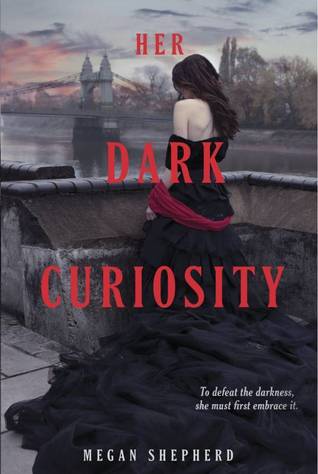 The Madman's Daughter:

Her Dark Curiosity

(2)
By Megan Sheperd
Genre(s): Historical-Fiction, Retellings, Young Adult, Horror
Published: Jan 2014
Summary:
"
To defeat the darkness, she must first embrace it.

Months have passed since Juliet Moreau returned to civilization after escaping her father's island—and the secrets she left behind. Now, back in London once more, she is rebuilding the life she once knew and trying to forget Dr. Moreau's horrific legacy—though someone, or something, hasn't forgotten her.
As people close to Juliet fall victim one by one to a murderer who leaves a macabre calling card of three clawlike slashes, Juliet fears one of her father's creations may have also escaped the island. She is determined to find the killer before Scotland Yard does, though it means awakening sides of herself she had thought long banished, and facing loves from her past she never expected to see again.

As Juliet strives to stop a killer while searching for a serum to cure her own worsening illness, she finds herself once more in the midst of a world of scandal and danger. Her heart torn in two, past bubbling to the surface, life threatened by an obsessive killer—Juliet will be lucky to escape alive.

With inspiration from Robert Louis Stevenson's The Strange Case of Dr. Jekyll and Mr. Hyde, this is a tantalizing mystery about the hidden natures of those we love and how far we'll go to save them from themselves."
Review:
So many thoughts are still swirling inside my head after finishing this book. Where to begin? Well, let's start with the obvious. I loved it! It has all the best of the first book but with some darker plots in motion. More danger, suspense and intrigue than The Madman's Daughter. While the first book is a retelling of
The Island of Dr. Moreau
, this book brings us a twist an the famous tale of
The Strange Case of Dr. Jekyll and Mr. Hyde
! And during the blending of the tales, Megan Sheperd doesn't miss a beat!
**Warning: If you have not read The Madman's Daughters plot and character spoilers may be mentioned in this review. Turn away now if you have not read the first book and don't want anything revealed.
This book takes places a few months after Juliet is set adrift from the island. She has been found and taken in by the wealthy and caring Professor Von Stein. While her life may seem to have taken a turn for the better, they have not. She is ill. The serum she was taking is no longer properly working. She is hurt over Montgomery's betrayal to send her off alone and guilt is nibbling her about how she aided in the death of her father. Then former wrongdoers unto her are found dead and murdered!
Talk about a lot to take on at her age! Sheesh. Double (triple?) lives, secrets and then murder?! It does not help when she knows who the murderer is....
Edward and Montgomery are also in the city for this book. Edward needs help, Montgomery has become a hunter and there are other dark secrets roaming the city streets. This book has a lot of great suspense and intrigue. It is darker and more violent than the first in my opinion. And more mature.
The love triangle once again takes effect but it is so much more than just a triangle now...
Lucy plays a much larger role in this book than the first. At the beginning she seemed like nothing special. Just your average, rich girl of the age. But as the story progresses, she proves she is much more. Elizabeth is a new character we meet and I really like her. Compassionate and independent. And Balthazar is back too! I love him! He is a favorite for this series. He is so sweet and heroic.
Moving on to our leads... Juliet. While I love her for her on one hand she also gets a bit annoying with how she is constantly comparing herself to her father. I get it, especially for the time setting, but I also wanted to shake some sense into her. Edward seems sweet enough but when he is not, look out! And then there is Montgomery. I cannot make up my mind about him. I like him. He has done well for himself and cares for Juliet it seems but he has his secrets still and those secrets have me leery of him...
Overall, I am very impressed. The author has done a fabulous job recreating worlds and sharing them in a bold new way! The characters are all fantastic and well-written. The writing is engrossing and compelling! Hints are given to keep you going but nothing is given away. While the end does give you an idea for the theme of the next book, I have no idea what to expect. Potential theories yes but there are many ways to go. Now I must wait impatiently for the third book of the series...
*I received a free ecopy of this book from Balzer & Bray via Edelweiss, in return for a fair, honest review. All opinions expressed are strictly my own.*
And now for a giveaway! I have enjoyed these first 2 books so much I want to gift them to others to enjoy!
Enter to win your choice of The Madman's Daughter or Her Dark Curiosity.
Winner will have 48 hours to respond once notified.
Giveaway is INTERNATIONAL
All entries WILL be verified!!!!
a Rafflecopter giveaway