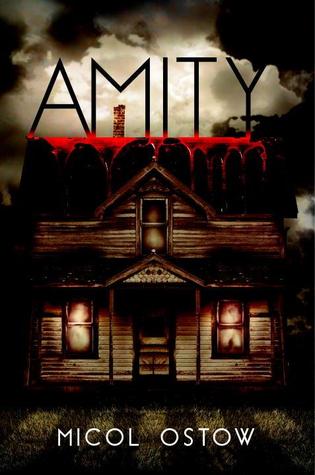 Amity
by Micol Ostow
Genre(s): Horror, Young Adult
Pages: 368
Published: August 2014
Publisher: Egmont USA
Summary:
"
Connor's family moves to Amity to escape shady business deals. Ten years later, Gwen's family moves to Amity for a fresh start after she's recovered from a psychotic break.

But something is not right about this secluded house. Connor's nights are plagued with gore-filled dreams of demons and destruction. Dreams he kind of likes. Gwen has lurid visions of corpses that aren't there and bleeding blisters that disappear in the blink of an eye. She knows Amity is evil and she must get her family out, but who would ever believe her?

Amity isn't just a house. She is a living force, bent on manipulating her inhabitants to her twisted will. She will use Connor and Gwen to bring about a bloody end as she's done before. As she'll do again.

Alternating between parallel narratives, Amity is a tense and terrifying tale suggested by true-crime events that will satisfy even the most demanding horror fan."
Review:
My thoughts are very mixed on this story. I enjoyed the original Amityville Horror movies so I was very curious about this book.

The book follows to perspective of two different families live in the Amityville house. Or Amity as it is named by the first family. The house is fully given it's own personality. And is apparently feminine. The first family has the teenagers Conner and Jules who are twins. Ten years late the teens are Luke and Gwen (only 11 months apart). The book follows a one month timeline for each household while living there. So we get parts of the story from Conner's perspective and part from Gwen.

Before I go into too much here, to best understand what is going on I highly suggest you see at least the first movie. It sets the stage a bit better. This book seems to go with the assumption that you have seen it. Certain references (the locks, boathouse, red room, etc) make a lot more sense this way.

The author goes off on an odd mix of being very descriptive one moment, then vague the next. This book definitely requires imagination to fully grasp what is going on (again seeing the movies helps). To me, it reminds me of a B-rated movie. Not really scary for the most part. In fact some scenes amused me in a twisted way. Yet underlying tones throughout the book can be a bit creepy I suppose. It didn't get to me that way but I can see how it could.

Conner is one twisted, messed up guy. Ugh, every time I was stuck in his head I almost felt slightly ill. I though I had a twisted side for enjoying reading/watching horror, but this guy thrives on living it! I wish I could have gotten a better feel for his sister but since it is from his perspective, it is quite contorted. Gwen I kind of liked but I never felt like I got to know her, even though I was inside her head. All I got was everyone, including herself, thought she was crazy.

What I did like was the author took a little extra time researching the framework of the original house and incorporated certain historical backrounds. And also added a few and embellished it seems, but still, I like seeing that the author did his homework before writing this.

There are several spots that seem to repeat themselves. I can tell the author was trying to press a point but using the same sentence multiple times within a page or two of each other comes across as a bit redundant and instead of focusing on the stress point I am more irritated for reading the same thing. There was one time I though I lost my place in the book because of this.

Overall, not a bad book to read. I can see how it can be creepy. I like the psychological aspects. Giving the house more personality was interesting. While I liked how some parts were descriptive and almost poetic, there are just as many parts that need some fine tuning or need to be a little less vague. I am all for using my imagination but if I had not seen some of the movies, I fear I would be more lost than not trying to read this. Recommended for fans of the movies just for kicks!
**I received an eBook copy of this for review from Egmont USA. All opinions expressed are strictly my own.*