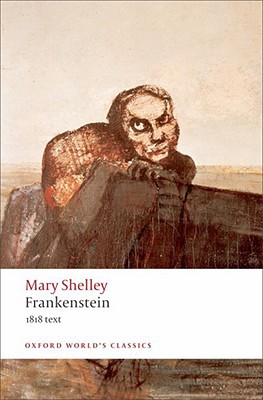 Genre(s): Classics, Horror, Historical Fiction
Published: 1818 Originally.
Publisher: Oxford University Press
Summary:
"Shelley's enduringly popular and rich gothic tale, Frankenstein, confronts some of the most feared innovations of evolutionism and science--topics such as degeneracy, hereditary disease, and humankind's ability to act as creator of the modern world. This new edition, based on the harder and wittier 1818 version of the text, draws on new research and examines the novel in the context of the controversial radical sciences developing in the years following the Napoleonic Wars. In addition it shows the relationship of Frankenstein's experiment to the contemporary debate between champions of materialistic science and proponents of received religion.
About the Series: For over 100 years Oxford World's Classics has made available the broadest spectrum of literature from around the globe. Each affordable volume reflects Oxford's commitment to scholarship, providing the most accurate text plus a wealth of other valuable features, including expert introductions by leading authorities, voluminous notes to clarify the text, up-to-date bibliographies for further study, and much more."
Review:
An interesting tale filled drawn out in the elegant prose of the era in which it is written. Full of depth and emotions one does not often see in today's literature. Yet there are a few things that kept this from being as fulfilling as the potential it held.

Starting off are some letters that at first confused me. I thought I knew the story of Frankenstein but I had no clue who this captain was. Luckily the pieces are soon drawn together. Yet while I am trying to figure out who is who my mind is rapidly working to change gears from common, current verbiage to the poetic, old English style in which this story is form. While utterly beautiful, it did take awhile to be able to fully appreciate it.

The next thing that has me thrown off is how easily the "Wretched Monster" learns. And how he knew about Frankenstein and his homeland when is states that Frankenstein immediately bails on his creation one it is alive. It must not have been as quick as described....

And the monster-he is amazing and filled with emotion. Overwhelmingly so. He seems to feel things more strongly than man. Be it love, loneliness... or hated! His tale is both wonderful and yet heart-wrenching at the same time.

I wish the book covered more of how the monster came to be. And as for Frankenstein, he sure was sick often in this book. Sheesh! I neither liked nor disliked his character.

This is very, VERY different from the movies I have seen. I almost wonder if ANY of the scriptwriters have ever actually read the book. Why have none of them correctly portrayed the story?! It would be so much better! Maybe one of these days, someone will get it right...

Final rating: 3.5 on enjoyment, 4.5 stars on writing!