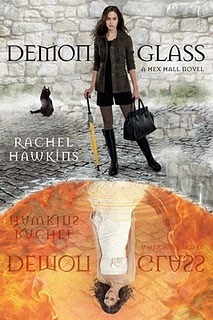 Hex Hall: Demon Glass (2)
by Rachel Hawkins
Genre(s): Paranormal, Young Adult
Pages: 359
Published: March 2011
Publisher: Disney Hyperion
Summary: "Sophie Mercer thought she was a witch. That was the whole reason she was sent to Hex Hall, a reform school for delinquent Prodigium (a.k.a. witches, shape-shifters, and faeries). But then she discovered the family secret, and the fact that her hot crush, Archer Cross, is an agent for The Eye, a group bent on wiping Prodigium off the face of the earth.

Turns out, Sophie's a demon, one of only two in the world-the other being her father. What's worse, she has powers that threaten the lives of everyone she loves. Which is precisely why Sophie decides she must go to London for the Removal, a dangerous procedure that will either destroy her powers for good-or kill her.

But once Sophie arrives, she makes a shocking discovery. Her new housemates? They're demons too. Meaning, someone is raising demons in secret, with creepy plans to use their powers, and probably not for good. Meanwhile, The Eye is set on hunting Sophie down, and they're using Archer to do it. But it's not like she has feelings for him anymore. Does she?"
Review: This is the sequel to Hex Hall. In order to properly enjoy this book, I highly encourage you to read it first. This is not a trilogy to read out of order.

In some ways I enjoyed this more than the first one, and in others a bit less. To start, I liked the writing better. I didn't feel the topics and style were geared towards teens only. While a young adult book, this one did not rub me in the annoying way the first book did at times.

However this book did not really grab and easily hold my attention either. Easily put aside and forgotten. Especially the middle of the book. I struggled to get through it. Nick and Daisy do not help. They bored me. The first book in the series threw some unexpected twists throughout the book. This one not so much. That is not to say it was bad or I didn't enjoy it. Just that it didn't jump out at me.

In this book, Sophie is sent off to spend the summer with her father. Lucky for her, Cal and Jenni get to go with her. She has a lot to learn about her heritage. From there, things go several directions at once and none of them play out in a way that drove my curiosity.

I am liking Cal's character more and more. I think he is my favorite character in this series. He may seem like the quiet, healing gardener, but it is easy to tell there is more to him. I have mixed thoughts on Sophie's dad. He is too career focused but I think he has a good heart. The other new characters were disappointing.

Now while much of the book was just so-so, the ending has me really wondering what is to come next. One cannot read this and just stop so kudos for an amazing cliffhanger ending!