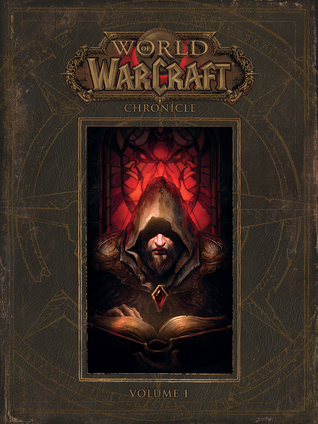 World of Warcraft, Chronicle Vol 1
by Blizzard Entertainment
Publisher: Dark Horse Books
Synopsis: "World of Warcraft: Chronicle Volume 1 is a journey through an age of myth and legend, a time long before the Horde and the Alliance came to be. This definitive tome of Warcraft history reveals untold stories about the birth of the cosmos, the rise of ancient empires, and the forces that shaped the world of Azeroth and its people.
Review:
I have mixed thoughts on this one. As a fan of Warcraft I found aspects in this, and the history it shares, that I really enjoyed. On the other hand, it was very technical and extremely bland in context. If it wasn't for the fact that the subject interested me so much, there is no way I would have plowed through this. There was no personality behind this at all. Very, very dry.

This is not a book to read if you are just curious about Warcraft. No. This is for the fans. If I had not played the games, read a couple of the books, etc. I would be a bit lost. This is not a novel. this is a history book, set for a fantasy world. Mind you, a dull history book. Still the facts are interesting and the concepts did broaden the world created. As a fan, I was able to appreciate what it offers.

Now the artwork is another story! I wanted more than the few images provided! They are fantastic! It is one thing Blizzard never fails to deliver. They have some superb artists on their team!

I also recommend a print version of this book. The kindle ebook doesn't to the art and edging justice and if you read it on your PC it pulls that correctly, but the font is tiny! The print edition is just about right!
*I received a digital copy of this book in exchange for a fair, honest review.