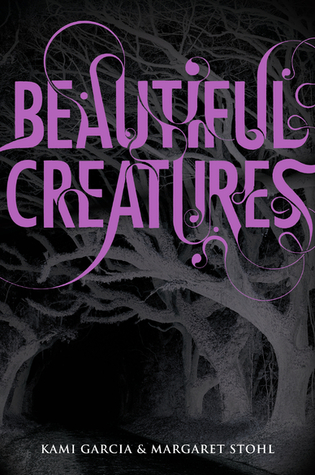 by Kami Garcia and Margaret Stohl
Genres: Young Adult, Romance, Paranormal
Publisher: Little Brown Books for Young Readers
Summary:
"
Is falling in love the beginning . . . or the end?

In Ethan Wate's hometown there lies the darkest of secrets . . .

There is a girl. Slowly, she pulled the hood from her head . . . Green eyes, black hair. Lena Duchannes.

There is a curse. On the Sixteenth Moon, the Sixteenth Year, the Book will take what it's been promised. And no one can stop it.

In the end, there is a grave.

Lena and Ethan become bound together by a deep, powerful love. But Lena is cursed and on her sixteenth birthday, her fate will be decided. Ethan never even saw it coming."-Taken from goodreads

Review:
Overall, I enjoyed it. The premise was intriguing and I loved the aspect of a paranormal romance from the male's POV! That won some big points for me. So many ya books that have a romance-centric theme are so focused on what the girl is thinking/feeling/doing and this twists that around.
While I liked Ethan's thought patterns (so to speak), his actual character was just so-so. There were a mixture of things I both liked and disliked about him. Although I really can't tell you what and this leads to why the book didn't make a higher rating. I actually read this book a few months ago and wrote some notes but looking back through my notes I am drawing a lot of blanks about the book. I remember books I read 10 years ago better than this! So that is by biggest problem. It is not memorable.
I did enjoy the story but the pace is slow through much of the book. It is a strong southern setting with strong ties to the civil war era and rich in its history and I was pleased with how the book brought it out. My favorite character, by far is Amma. I adored this woman! She is such a strong character and is a fountain of knowledge. Lena's behavior, on the other hand often annoyed me. I realize she has a big decision to make and she feels fate is messing with her but she acts like a ------!
There are a lot of secrets in this book. Some are made clear, others I guess I will have to read book two and others I doubt will ever be answered based on how they were addressed and so far "resolved." I think part of this may be due to the dual authorship. I really think this book would have done better with just one writer and the other getting the honors of assisting with story ideas and concepts.
Overall, a good book. More potential than results so far but I will give the next book a shot to see where it goes.
On a side note, I will state that I liked the book better than the movie.