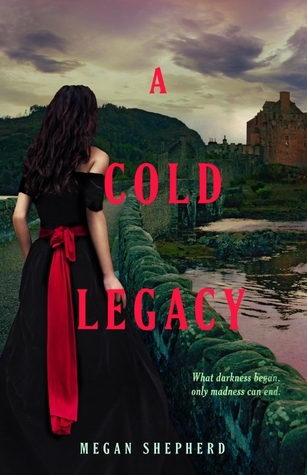 Genre(s): Young Adult, Retelling, Historical, horror
Summary:
"
After killing the men who tried to steal her father's research, Juliet—along with Montgomery, Lucy, Balthazar, and a deathly ill Edward—has escaped to a remote estate on the Scottish moors. Owned by the enigmatic Elizabeth von Stein, the mansion is full of mysteries and unexplained oddities: dead bodies in the basement, secret passages, and fortune-tellers who seem to know Juliet's secrets. Though it appears to be a safe haven, Juliet fears new dangers may be present within the manor's own walls.

Then Juliet uncovers the truth about the manor's long history of scientific experimentation—and her own intended role in it—forcing her to determine where the line falls between right and wrong, life and death, magic and science, and promises and secrets. And she must decide if she'll follow her father's dark footsteps or her mother's tragic ones, or whether she'll make her own.

With inspiration from Mary Shelley's Frankenstein, this breathless conclusion to the Madman's Daughter trilogy is about the things we'll sacrifice to save those we love—even our own humanity."
-Taken from Goodreads.com
Reviews and Summaries of previous book in the trilogy
Review:
Ah the end if here! It is a bitterwseet moment for while I am saddened that Juliet's adventures for us are over, I an most pleased with the way Megan Shepherd tied everything together. While many trilogies can leave loose ends we get very few here. And even those we get are of our own making and are not pertinent to Juliet's story. All the plot twists are answered nicely. And let me tell you, there are plenty of plot twists!

This book picks up immediately following Her Dark Curiosity. Our Favorite characters-Juliet, Montgomery, Edward, Balthazar and Lucy) arrive at their destination. The home where the legends of Frankenstein and his monster began! The house is run by a group of girls employed by Elizabeth who take Juliet and company inside. This house has it's own secrets and when Elizabeth arrives more startling truths are revealed. She is much like Juliet herself in some ways.

Edward/the beast are still locked in an internal was while their body fights the poison coursing through it. Through it all Lucy went from being a character I liked to one I was quite mad at in this book. Her expectations of Juliet and her own actions are irrational and selfish! Balthazar and Montgomery are true to character although they do still have a secret they are keeping from Juliet. One that will change her entire outlook on life!

With dark science, being on the run from authorities, a friend at war with himself, a strange boy, a wedding and more secrets than should be under one roof this book is filled with intrigue! everything I felt a plot arc was over, it starts up again or a new one takes it's place, keeping me riveted to the book. With a satisfactory ending I am most pleased with this series! This has earned a place o my shelf for years to come!
*I received a free copy of this book in exchange for a fair and honest review. All opinions are my own.*
I really enjoyed this trilogy! So much so that I want to share a set of the books with you! Enter to win all three books of The Madman's Daughter Trilogy!
Giveaway is International!!
a Rafflecopter giveaway