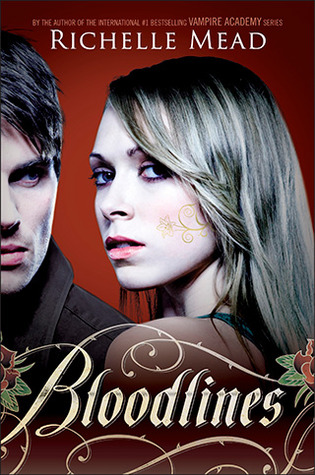 Genre(s): Paranormal, Young Adult
Summary: "Blood doesn't lie...
Sydney is an alchemist, one of a group of humans who dabble in magic and serve to bridge the worlds of human and vampires. They protect vampire secrets - and human lives. When Sydney is torn from her bed in the middle of the night, at first she thinks she's still being punished for her complicated alliance with dhampir Rose Hathaway. But what unfolds is far worse. Jill Dragomir - the sister of Moroi Queen Lissa Dragomir - is in mortal danger, and the Moroi must send her into hiding. To avoid a civil war, Sydney is called upon to act as Jill's guardian and protector, posing as her roommate in the last place anyone would think to look for vampire royalty - a human boarding school in Palm Springs, California. But instead of finding safety at Amberwood Prep, Sydney discovers the drama is only just beginning.."
Review:
**While reading the Vampire Academy series is not necessary to reading Bloodlines, I do recommend reading those books first. Please note that some parts of this review may contain spoilers to the VA series!**

When I first picked up this book, I wondered what I was getting myself into. Was this going to be another "Vampire Academy?" Even though it is a spin-off series, there was still a lot of trepidation about this, especially after reading so many mixed reviews. What I can say it that while there are several characters from VA in this series, the focus is in a very different direction. While I love the VA series, I am pleased to see the different perspectives and also to hopefully see Adrian finally get his happy ending.

To start with it our narration. Sydney is very different from Rose. Rose was confident, strong, passionate and went after what she wanted without preamble. Here, Sydney is being shaken from everything she has been taught. She grew up in a world where everything was very black and white. She is smart, level-headed and hates to break the rules. This series so far seems to challenge the rules she knows and to redefine evil. The alchemist backround she has taught her that magic is bad, vampires are evil. Strigoi being the worse but Moroi are not much better and to never, ever get close to them.

Well her assignment is going to make that difficult. Jill, new-found sister to the Moroi queen, needs protection and Sydney's job is to keep her hidden with the help of her guardian, Eddie. To add to it we get Adrian who "tags along!" She must pose as sister to Eddie and Jill in a new school. So how does she keep her distance from these lovable characters? I love how I can tell this series is really going to test Sydney's beliefs and tolerances!

Adrian, by far, is my favorite character in this. Even while grieving his broken relationship from Rose, he is still witty. Combine that with Sydney's hidden snark and we get some great dialogue in this book. Jill is still the one character I am just not sure about. her character has always been "meh" to me and this book has done little to improve. Not to say I dislike her but I can take her or leave her.

With a new possible forbidden romance on the horizon, two great, solid lead characters and a new plotline that explores new aspects of the world, Richelle Mead has done a great job with this!
Favorite quote from the book: "I decided the Alchemists needed an entire department devoted to handling Adrian Ivashkov."