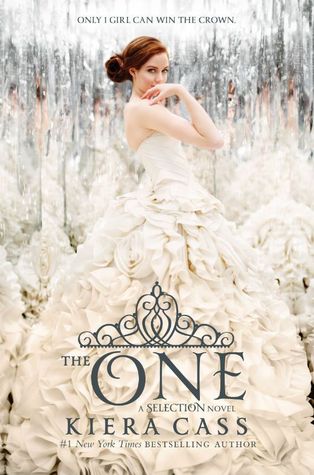 The Selection: THE ONE (3)
by Kiera Cass
Genre(s): Young Adult, Romance, Dystopian
Synopsis: "The highly anticipated conclusion to Kiera Cass's #1 New York Times bestselling Selection series, The One will captivate readers who love dystopian YA fiction and fairy tales. The One is the perfect finale for fans who have followed America's whirlwind romance since it began--and a swoon-worthy read for teens who have devoured Veronica Roth's Divergent, Ally Condie's Matched, or Lauren Oliver's Delirium.
The Selection changed America Singer's life in ways she never could have imagined. Since she entered the competition to become the next princess of Illéa, America has struggled with her feelings for her first love, Aspen--and her growing attraction to Prince Maxon. Now she's made her choice . . . and she's prepared to fight for the future she wants.
Find out who America will choose in The One, the enchanting, beautifully romantic third book in the Selection series!"
Review: The Selection is heating up in unexpected ways. Not only is there the Aspen vs Maxon decision, the other girls are stepping up their game to win Prince Maxon's affections! Toss in rebel revelations and threats and it is an exciting read!

Honestly I cannot say too much about this book without spoilers. It was shorter than expected, especially for the content it covered. I wish it delved into things a bit deeper and taken things just a bit slower toward the end. It felt a bit rushed. Secrets are revealed in shocking ways. Good and bad. While I love Prince Maxon, his behavior with the other contestants actually had me a bit disappointed in him. Still, he is am amazing guy who is way to sweet toward America.

Another fluffy, fast read with just a few darker streaks that keep me utterly engaged in the book.