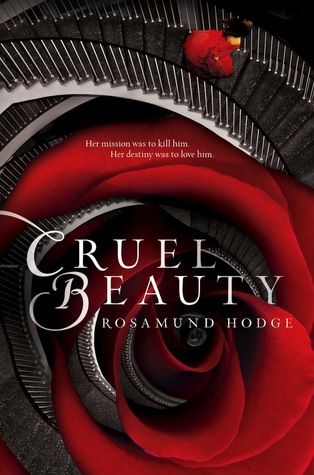 Genre(s): Fantasy, Romance, Young Adult, Re-tellings
Summary: "Graceling meets Beauty and the Beast in this sweeping fantasy about one girl's journey to fulfill her destiny and the monster who gets in her way-by stealing her heart.

Based on the classic fairy tale Beauty and the Beast, Cruel Beauty is a dazzling love story about our deepest desires and their power to change our destiny.

Since birth, Nyx has been betrothed to the evil ruler of her kingdom-all because of a foolish bargain struck by her father. And since birth, she has been in training to kill him.

With no choice but to fulfill her duty, Nyx resents her family for never trying to save her and hates herself for wanting to escape her fate. Still, on her seventeenth birthday, Nyx abandons everything she's ever known to marry the all-powerful, immortal Ignifex. Her plan? Seduce him, destroy his enchanted castle, and break the nine-hundred-year-old curse he put on her people.

But Ignifex is not at all what Nyx expected. The strangely charming lord beguiles her, and his castle—a shifting maze of magical rooms—enthralls her.

As Nyx searches for a way to free her homeland by uncovering Ignifex's secrets, she finds herself unwillingly drawn to him. Even if she could bring herself to love her sworn enemy, how can she refuse her duty to kill him? With time running out, Nyx must decide what is more important: the future of her kingdom, or the man she was never supposed to love."



Review:

Lots of similarities to Beauty and the Beast. Which is fine with me as it was always a favorite of mine. However, the world is completely original and fantastic!

Nyx has been trained since the age of nine to kill the "Gentle Lord" who holds the land captive. They are under constant threat of his demons and there is no way to escape. The Lord is known for his unfair bargains and one of these bargains left Nyx betrothed to him. So she is to wed and bed him, then destroy him!

Nyx holds a lot of anger and I do not blame her. She has never been shown love by her family. She has always been known to them as a sacrifice while her twin sister is lavished with attention. I'd be pissed too! She is stuck paying the price for her father's selfishness and foolish bargain.

The Gentle Lord tells her to call him Ignifex and there is more to him than meets the eye. Part kind, part wicked and full of secrets! Then there is Shade. A shadow-like image of him that takes form at night. He too is kind but has secrets. To top it all off is the castle itself. I want to visit it! It sounds amazing. Some rooms wonderful, others horrifying (I'll just skip those, thank you so much).

There is a sort of romance triangle as both men care for Nyx and she is attracted to both. It surely can't help that, besides the eyes, they look the same.

I was hoping for a bit more on the "destroying the Lord" bit but the romance and mysterious secrets heavily trump that part of the book. Otherwise, I deeply enjoyed this.

The writing is very well done and very rich in characters and everything that surrounds them. I adored the characters. Very unique. Each have crucial flaws and each great strength. I couldn't help but like them. Except the father and aunt. While they are well written, their characters are less than scum.

I will assuredly be reading more by Rosamund Hodge in the future! Her writing is truly that of an artist. Beautiful writing set it an incredible world. The main flaw is that it does get a bit confusing in parts and you can get lost in the flow of words. Otherwise, great job!
**I received a copy of this book in exchange for a fair and honest review. All thoughts and opinions expressed are strictly my own!**