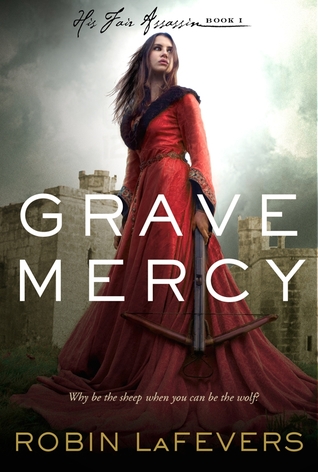 His Fair Assassin: Grave Mercy (1)
Genre(s): Historical Fiction, Fantasy (very light), Romance
Publisher: Houghton Mifflin Harcourt
Summary: "Why be the sheep, when you can be the wolf?

Seventeen-year-old Ismae escapes from the brutality of an arranged marriage into the sanctuary of the convent of St. Mortain, where the sisters still serve the gods of old. Here she learns that the god of Death Himself has blessed her with dangerous gifts—and a violent destiny. If she chooses to stay at the convent, she will be trained as an assassin and serve as a handmaiden to Death. To claim her new life, she must destroy the lives of others.

Ismae's most important assignment takes her straight into the high court of Brittany—where she finds herself woefully under prepared—not only for the deadly games of intrigue and treason, but for the impossible choices she must make. For how can she deliver Death's vengeance upon a target who, against her will, has stolen her heart?"
Review:
I have very mixed feelings about this book. For the most part I enjoyed it but there were a couple parts where it nearly hit rock bottom. This book is a mix of history with a few new characters tossed into the mix to add some unique spice. Mostly positive thoughts on this new series so far.
Ismae is a very strong young woman and is an easy character to admire. She rises above a harsh childhood and is rescued from a contemptible marriage and moved to a convent where the women there serve Mortain (Death). She is trained in the ways of an assassin in his service and specializes in poisons. This part greatly appealed to me at first.
She is one her early assignments when she meets Duval. She is assigned to appear as his mistress to gather intel for the abbey on the inner workings of whether he or others are loyalist to the Duchess (Anne). Both are very distrustful of the others at first but when Anne's life is threatened, and the abbey gives her new orders Ismae is forced to make some crucual choices that can change everything
I loved the characters in this book and I liked the light mystery and intrigue it presents. What I did not like, however, were the info dumps. Especially around 20%-50% mark of the book. The political aspects and family relations are quite overwhelming and drastically cuts into the pace of the plot. So it starts off fast then levels out and suddenly hits a crawling pace for short bursts.
I almost did not finish but I did and am glad for that. The second half of the book does pick up again and the historical plotline blends much more smoothly with that if Ismae.
I did enjoyed the tracing of the historical happenings of this book. Many of the political happenings is accurate with some original characters. The book starts off a more edgy book but does take a dive for the more romantic side as the book moves along. Overall a very well done blend. 3
*I received a copy of this book in exchange for a fair and honest review*