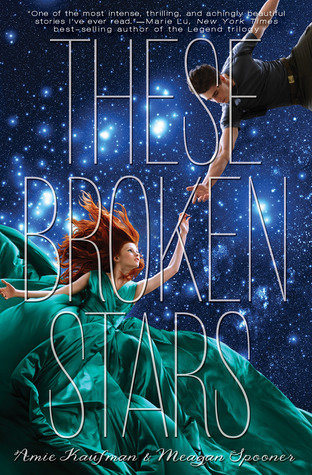 Starbound: These Broken Stars (1)
by Anne Kaufman & Meagan Spooner
Genre(s): Science Fiction, Romance, Young Adult
Publisher: Disney Hyperion
Official Summary: "

Luxury spaceliner Icarus suddenly plummets from hyperspace into the nearest planet. Lilac LaRoux and Tarver Merendsen survive – alone. Lilac is the daughter of the richest man in the universe. Tarver comes from nothing, a cynical war hero. Both journey across the eerie deserted terrain for help. Everything changes when they uncover the truth."
Review:
This was fantastic! Why did I wait so long to read it?! The spoiled, rich Lilac and the young officer Tarver. They are classes apart yet she is drawn to him yet knows that for his sake he can never be even near her. The joys of a controlling, powerful father. Yet when things go drastically wrong and they crash land on a foreign planet, the two of them alone together.

I loved their interactions and their thoughts of their situation and each other. I loved both characters immensely. They made the book for me! Their adventure across this planet is fascinating as they learn secrets and try to piece together what happened and where they are. There are dangers unknown on this planet and each is unique and wonderfully portrayed.

Everything is just beautifully written! I am not usually a fan of authors writing one story together. It is often disjointed but not this. The whole story is one smooth ride that doesn't falter and continues all the way to the end. One of my biggest wishes was to understand the galaxy as a whole, what society is like, etc and we don't see that much. IT is just briefly tossed at us in a few vague clues.

It is a very interesting sci-fi survival and romance story with a very fascinating twist. What happens on this planet is unexpected. I am eager to continue the series!
*I received a copy of this book in exchange for a fair, honest review.