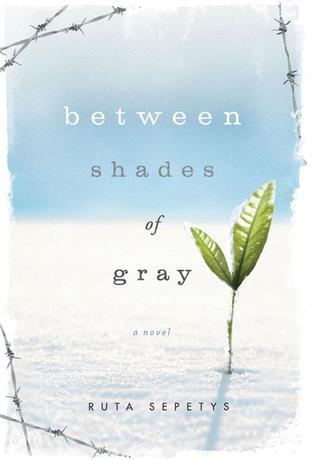 Genre: Historical Fiction, Young Adult
Official Summary: "Lina is just like any other fifteen-year-old Lithuanian girl in 1941. She paints, she draws, she gets crushes on boys. Until one night when Soviet officers barge into her home, tearing her family from the comfortable life they've known. Separated from her father, forced onto a crowded and dirty train car, Lina, her mother, and her young brother slowly make their way north, crossing the Arctic Circle, to a work camp in the coldest reaches of Siberia. Here they are forced, under Stalin's orders, to dig for beets and fight for their lives under the cruelest of conditions.

Lina finds solace in her art, meticulously--and at great risk--documenting events by drawing, hoping these messages will make their way to her father's prison camp to let him know they are still alive. It is a long and harrowing journey, spanning years and covering 6,500 miles, but it is through incredible strength, love, and hope that Lina ultimately survives. Between Shades of Gray is a novel that will steal your breath and capture your heart."
Review:
Well done, Ruta Sepetys! A great book. Heartbreaking, but nicely written.
This book is a novel, but is actually based on history, during WWII. this story is written from the perspective of a teenager named Lina. she and her family are taken from their home in Lithuania by the Soviets. This story tracks the next year plus of all hardships they go through. The labor camps, the illnesses that struck, the deaths of fellow Lithuanians, cruel degrading treatment and more.

Much is known about Hitler's reign, but what about those sent to Stalin? What of the voices never heard? This is one of those voices, crying out after all these years. The imagery if vivid. You see how lives are lived, you see the love and pain and sorrow. But it is more than that. you feel it. this book literally moved me to tears.

The is a hint of romance, and much community love. There is loss and heartbreak. There is pain and suffering. There is hope. The characters are endearing and so well done. Lina is one amazing young woman with all sure endures.

If you are looking for a happy, upbeat book, this is not it. This novel shows how Lithuanians (and other people too) were treated during the war. It is well paced, and starts off with a bang with the Soviets coming for the girls family right at the beginning. It is brutally honest. It is not always easy writing about such treatment from a young teenagers perspective, but this captured it perfectly. My only complaint to the book is the chapters were too short and I wish I could have continued on Lina's story a little longer.
*I won this as a First-Read giveaway on goodreads.com. all thoughts and opinions of this review are strictly my own.*