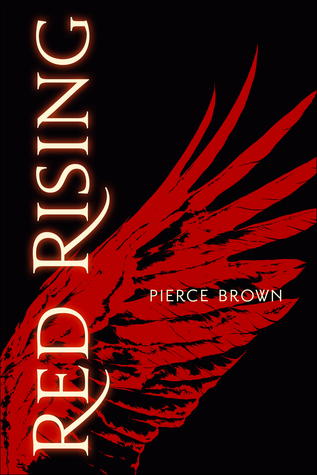 Genre(s): Sci-Fi, Dystopian
Summary: "The Earth is dying. Darrow is a Red, a miner in the interior of Mars. His mission is to extract enough precious elements to one day tame the surface of the planet and allow humans to live on it. The Reds are humanity's last hope.
Or so it appears, until the day Darrow discovers it's all a lie. That Mars has been habitable - and inhabited - for generations, by a class of people calling themselves the Golds. A class of people who look down on Darrow and his fellows as slave labour, to be exploited and worked to death without a second thought.
Until the day that Darrow, with the help of a mysterious group of rebels, disguises himself as a Gold and infiltrates their command school, intent on taking down his oppressors from the inside. But the command school is a battlefield - and Darrow isn't the only student with an agenda."
Review:
What an amazing read! This is the best book I have read in several months. Pierce Brown has done an amazing job with the world-building for this series and Red Rising here is packed with well-drafted characters, situations and caste system.
Darrow loses his family and identity as he learns his entire life has been based on lies. Filled with anger he is determined to take down the Golds that ruined his life while they live a life of luxury. So he is set to infiltrate them and destroy their caste from the inside.
Darrow is wonderfully written and I enjoyed every moment spent reading his story. His sorrows and his victories. He is one angry guy but he has every right to be. Yet he also learns not everything is black and white (or red and gold as the case may be).
When I first started this I was confused by the comparison's to the Hunger Games. Yet once we get to the Elite Game Darrow must play to make his mark in society, I see why. And while I enjoyed the Hunger Games immensely, this is so much better. More detailed, richer characters. The world is more complex and the whole story brings on a higher maturity.
While Darrow is technically just a teenager, this is not a young adult novel. He is married and planning kids at this point. It you live until 30, you are considered old. So he is mature beyond his years for our standards of expectation. The situations and violence has a older mindset. While most teens can read this, it does feel more geared to adults than most Y.A. novels. Very violent and mentions of rape.
Lots of strategy, violence, and references to Greek gods, this book has so many aspects of what I love in a book. This book has earned a permanent home on my shelf and I eagerly look forward to devouring the next book in the series. Plus I will surely keep an eye out for other books by this author in the future.