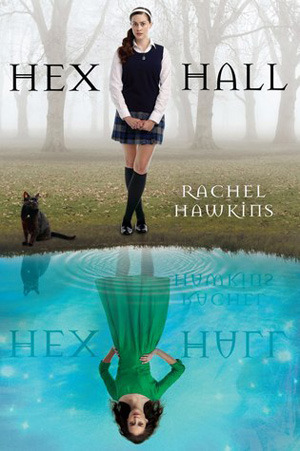 Genre(s): Young Adult, Paranormal
Summary:
"Three years ago, Sophie Mercer discovered that she was a witch. It's gotten her into a few scrapes. Her non-gifted mother has been as supportive as possible, consulting Sophie's estranged father—an elusive European warlock—only when necessary. But when Sophie attracts too much human attention for a prom-night spell gone horribly wrong, it's her dad who decides her punishment: exile to Hex Hall, an isolated reform school for wayward Prodigium, a.k.a. witches, faeries, and shapeshifters. By the end of her first day among fellow freak-teens, Sophie has quite a scorecard: three powerful enemies who look like supermodels, a futile crush on a gorgeous warlock, a creepy tag-along ghost, and a new roommate who happens to be the most hated person and only vampire student on campus. Worse, Sophie soon learns that a mysterious predator has been attacking students, and her only friend is the number-one suspect.
As a series of blood-curdling mysteries starts to converge, Sophie prepares for the biggest threat of all: an ancient secret society determined to destroy all Prodigium, especially her."


Review: When I first started reading this I was not sure I wanted to finish it. It came across as VERY young adult. The first person narration style we get for Sophie is bona fide teen speak. So while I could quickly see this appealing to teens (13-17) I had a hard time thinking of anyone over the age of 20 that would enjoy being stuck in her head. Luckily I gave it a few chapters and it does mellow out a slight bit enough to tolerate. Through in some her snarky personality and it made the book reasonably enjoyable.

Before I go too far I want to be sure to explain that that my initial dislike of the book is bad for many others but the book, while having strong paranormal aspects, is in effect a teen drama/contemporary. Instead of the tradition jocks/nerds/cheerleader/etc cliche high school crowds we get fairies/werewolves/witches. Otherwise think high school with dormitories and that is Hex Hall. Now I have never been a big contemporary fan and I prefer my YA to be a bit more on the mature side than this. However, for the average high school student this book is perfect and most likely easy to relate to.

While the book started out with a major eye role, Sophie's character is one that is amusing to read through. The witty remarks made me grin sarcastically in several scenes. She is sent to Hex Hall after one too many spells have gone quite wrong to learn better control. Little does she know that she is in for a less than friendly welcome due to past events beyond her control. She is behind on her magic, has the only vampire for a roommate (and said vamp has a slight obsession with the color pink) and her family has quite a few skeletons in their closet that she must confront! Not to mention the attacks that are happening on the students!

Many bits and pieces are quite predictable but it is the manner in which the story is told that made this a worthwhile read. But if you are looking for twists and turns this is not it. It is a fast, mildly entertaining read.