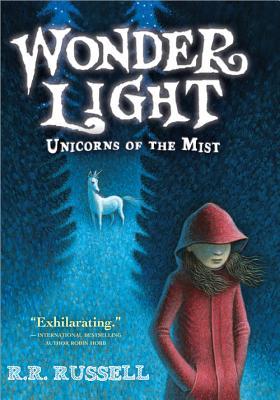 Unicorns of the Mist:
Wonder Light (1)
by R.R. Russell
Published by Sourcebooks Jabberwocky
Summary:
"
Deep in the heart of a mist-shrouded island, an impossible secret is about to be discovered.

Twig is used to feeling unwanted. Sent to live on a pony ranch for "troubled" girls on a misty, haunted island, Twig is about to discover the impossible -- someone who needs her.

Jolted awake from a bad dream, Twig follows the desperate whinny of a terrified horse out to the stables. There in the straw is a bleating little scrap of moonbeam. A silver-white filly with cloven hooves and a tiny, spiraling horn.

A baby unicorn.

Now Twig knows what secret is hiding in the island's mist: the last free unicorn herd. And a mysterious boy named Ben who insists that this impossible creature is now Twig's to care for. That she needs Twig's love and protection. Because there's something out there in the deep, dense shadows that's hunting for them..."
Review:
This was a cute, often compelling youth novel. A unique blend of a girl coming into her own and fantasy. Easy to follow and great for all ages.

We get to tag along with twelve year old Twig as she is brought to a type of "foster care/youth home by her stepmother. This home is on an island that Twig read was haunted. There are other girls there as well and each girl is given a pony to care for as their own. Twig's thoughts quickly bounce around on if she likes it there or hates it through the first several chapters. Until she meets a mysterious "Wild" boy named Ben and a few unicorns.

While not a fan of the ponies and work they entail, she quickly comes to care for a young unicorn filly, Wild Light. She is soon caught up in a tale of wonder in that there are other unicorns on the island that have turned overly wild and are now bloodthirsty carnivores. What?! Carnivorous unicorns? You heard right. I really do not care for that concept but I otherwise liked the difference between the unicorn factions.
The other thing that bothered me was that Twig's past is given to using muddled bits and pieces. I kept wanting to know why she was there, why she is so hard on herself, and what happened to her mother, etc. We get some of the answers but how and when they are given just seemed off and didn't get the attention they deserved. her past plays such a heavy part of her psyche in the first half then just is brushed off almost.
I really liked how her drawing Wild Light begins to break her out of her shell. She is fiercely protective of her new home and those that live there. I also, oddly enough, thought her name was cute and aptly named in a way.

The story is written is such a way older children will love it but has enough depth that older readers can enjoy it as well. Simple, short chapters make reading breaks easy for younger readers. There are also some great discussion questions at the end of the book which I thought are great for classroom reading or parent/child reads. Overall, quite a delightful read for up and coming readers. Especially 9-14 year old girls!