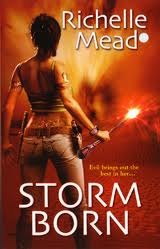 Dark Swan: Storm Born (1)
Genre(s): Urban Fantasy, Paranormal, Romance
Summary: "Just typical. No love life to speak of for months, then all at once, every horny creature in the Otherworld wants to get in your pants. . .
Eugenie Markham is a powerful shaman who does a brisk trade banishing spirits and fey who cross into the mortal world. Mercenary, yes, but a girl's got to eat. Her most recent case, however, is enough to ruin her appetite. Hired to find a teenager who has been taken to the Otherworld, Eugenie comes face to face with a startling prophecy—one that uncovers dark secrets about her past and claims that Eugenie's first-born will threaten the future of the world as she knows it.
Now Eugenie is a hot target for every ambitious demon and Otherworldy ne'er-do-well, and the ones who don't want to knock her up want her dead. Eugenie handles a Glock as smoothly as she wields a wand, but she needs some formidable allies for a job like this. She finds them in Dorian, a seductive fairy king with a taste for bondage, and Kiyo, a gorgeous shape-shifter who redefines animal attraction. But with enemies growing bolder and time running out, Eugenie realizes that the greatest danger is yet to come, and it lies in the dark powers that are stirring to life within her...
Review: Be it young adult novels like the Vampire Academy series, or this more mature, sexy paranormal mix, Richelle Mead does not fail to deliver! This first book of the Dark Swan series is amazing! Full of action, adventure, romance and all sorts of fae- this book is packed from beginning to end.


Eugenie is confidant, kick-ass shaman who tries to protect the human realm (Earth) from the gentry (fae). She is an independent agent for hire that specializes in banishments. Soon though, three thing happen that changes everything for her.
1- The fae and demons now know who she is really is.
2- A sexy mystery man shows up in her life.
3- A client asks her to go into the fae realm to rescue his sister.

From there many things she knew about the other world is about to change. Not all of them are bad. Some are horrible. And all of them seem to want to use her to further their own gain (some in a most vile way).

There is a love triangle in this. We have Kiyo who is a kitsune and loyalist to a Maiween (queen to one of the fairy kingdoms). Kiyo is sweet, sexy and protective of those he cares about and is half-human. He wants to keep the worlds separate. Then there is King Dorian (Lord of another kingdom). Red-hair and a near sex god to look upon. Very cocky was a loyalist to the Storm King who wanted to conquer Earth. So far I like Kiyo more but there is something about Dorian that one can feel drawn toward (including our heroine obviously).

There are quite a few twists and turns in this book. Things I did not expect which I always love to see in a good book. The cast of characters is fantastic! In particular is Eugenies array of "helpers/servants."

All sorts of paranormal creatures can be found in these pages! Some from various lore and others sem quite original. And the kingdoms and travel of the fae lands is fascinating. I hope to learn more about that in the next book. each kingdom is very unique to there rulers. There is a lot of creativity that shines through.

Is this series worth reading? A very strong YES. Highly recommended is you like urban fantasy. Although this is not Richelle Mead's more commonly known YA. There are sex scenes. This book is much more explicit from her previous titles. To me, there is a great blend of action/adventure and romance in this. This book has earned a permanent home on my shelves.